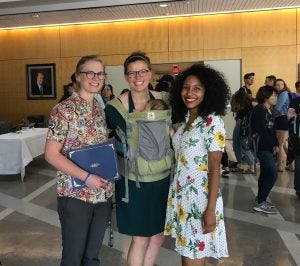 Masters students Olivia Wright and Daniela Peguero were recognized at last week's CEE Awards ceremony for having been awarded the Tchobanoglous Fellowship in the 2017-2018 academic year. Olivia also received the Salisbury Fellowship for Fall 2018.
Wenting Li was awarded a Superfund Traineeship for the Summer 2018 quarter.
Hannah Safford received news of winning the 2018 American Water Works Association CA-Nevada section scholarship for graduate students.
The Stream Team was recognized with an honorable mention for their Follow the Flow video competition submission to the Association of Environmental Engineering and Science Professors.
Former undergraduate student researcher Yutong Zhang decided to attend Stanford University for his graduate studies, and undergraduate researcher Yilong Liu will be getting his Masters at UC Davis.
Congratulations to all!!