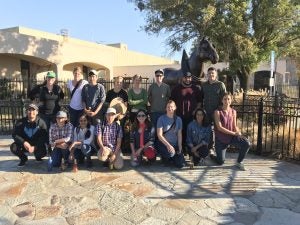 Last week was an exciting one for students in in the graduate course, "Synergies between Environmental Engineering and Policy" (ECI 289A). Students took a field trip to the Budweiser factory to learn about their sustainability initiatives and efforts to reduce water consumption during beer production. Typical beer production requires 8 barrels of water for every one produced. Through recycling and other innovations in their processes, Budweiser is trying to bring the ratio down to a 2 barrels. The factory also uses methane generated in their biological treatment system to power the plant.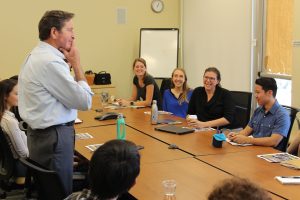 Even more exciting than sustainable beer, Congressman Garamendi visited UC Davis on October 24 to meet with students in Environmental & Water Resources Engineering. He shared stories of water challenges and solutions from throughout the globe. He listened to each student describe their research and studies, and expressed gratitude and hope of the future roles of our students in addressing water and climate of our modern time. Thanks to Congressmen Garamendi for taking the time to engage with engineering students.
ECI 289A is being taught this quarter by PhD student Hannah Safford (Bischel as faculty mentor).