This weekend, I joined 5 other women in swimming across Lake Tahoe for the 41st annual Trans-Tahoe relay on Saturday July 22. I've been pining to do this race for many years, and finally was available (and in the country) this year. Fortunately, an amazing group of women were game to join me in the fun.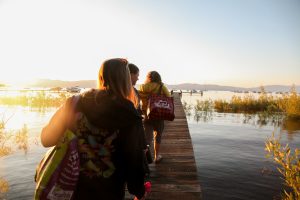 My goal was to gather together inspiring women interested in science, water, the environment, and sports to reflect together while swimming across the lake. I also wanted to celebrate achievements in improving water clarity in Lake Tahoe while raising awareness about water research and efforts still needed to protect our resources. We raised funds to support the Tahoe Environmental Research Center (thank you friends, family and alums for donating in our honor!).
The "Women for Water Research" team was a diverse and talented crew. Jennifer Teerlink, a former Division 1 collegiate swimmer (our powerhouse), led the team out of the water. JT is a Senior Environmental Scientist at California Department of Pesticide Regulation. Next off the boat came Genevieve Evans, an elite off-road triathlete and long-distance mountain biker, who works as a transportation planner for a consulting firm in Tahoe City.  After Genevieve came team captain (yours truly), followed by Veronica Morales, also an assistant professor in U.C. Davis' Department of Civil & Environmental Engineering. Veronica decided that her first ever visit to the Tahoe Basin would involve swimming across the largest lake in California.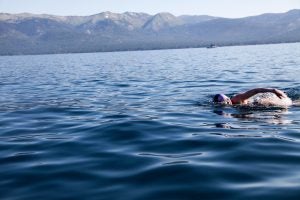 Deb Niemeier rounded out the trio of CEE professors, completing her first open water swim. Megan Michelson, whose whole family helped our swim happen (babysitter mom and boat driver husband!) came next in the water. Megan also closed out our swim (after each of us took three turns in the water), which took us 5 hours and 17 minutes. Megan is a Tahoe City-based freelance writer and former editor at ESPN.com and Outside Magazine. And last, but not least, our boat driver, Dan Abrams was a critical team member following our GPS course closely and helping us pick up trash in the lake along the way.
Check out an article in the UC Davis news, here. Now we can all check this one off our bucket list (and you can check out Veronica transitioning into the water in Outside Magazine an in AggieXtra!).
Photo credits: Team member, Megan Michaelson