Production and sale of fertilizers derived from human waste can serve to promote sustainable agriculture and sanitation, but is it safe? In my talk entitled, "Human – Environment Interactions: Coupling Global Benefits while Quantifying Micro-scale Risks," I presented my work to quantify human health risks associated with urine collection from dry toilets and subsequent production of struvite fertilizers using manual reactors built in Durban, South Africa. I was invited to present this work at the International Water Association North America (IWANA) meeting held on June 23, 2017 (my husband's birthday!) in Ann Arbor, MI.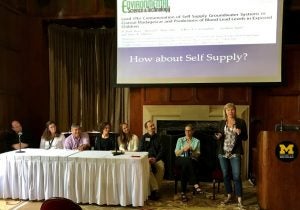 With over 80,000 urine diverting dry toilets in place, the eThekwini Municipality has been active in evaluating the potential for urine collection and nutrient recovery at scale to reduce costs of providing sanitation services. The detailed risk assessment I conducted along the sanitation value chain identifies critical control points to help reduce health risks associated with waste collection and nutrient recovery.
A high resolution model of the concentrations of pathogens on study participant hands through time was developed using videography from urine collection and processing in the field, surface sampling, and literature inputs. Typically, risk assessments for urine nutrient recovery have made bulk estimates for the amount of urine that may be directly ingested during application as fertilizer. This work instead models indirect pathogen transmission through transfer of pathogens from urine to surfaces and surfaces to hands, representing a more likely transmission scenario.
When looking to bring resource-oriented sanitation to scale it is important that health risks are quantified in realistic and comprehensive ways to ensure safe production processes throughout the resource-management system.
The IWANA meeting followed the "Advancing Healthy Communities through Environmental Engineering and Science" conference of the Association of Environmental Engineering and Science Professors (AEESP), also in Ann Arbor. I presented a poster at the AEESP conference and moderated a fantastic session on "Healthy Communities Across the Globe: WASH for Developing Countries." The session included high-quality presentations from Chuck Haas (Drexel), Emily Kumpel (UMass Amherst), Sherri Cook (UC Boulder), and Jim Smith (UVA).
Photo Credit: Joan Rose / United States of America National Committee of the International Water Association (Issue 8 – July 2017 Newsletter)