Our very own Daniela Peguero received news today that she was selected for a Fulbright award to South Africa! Dani has been hard at work on her Masters thesis since I joined the faculty at UC Davis in April 2017. She has been evaluating the microbial treatment efficacy of a fecal sludge treatment reactor (the viscous heater) developed by collaborators at the University of Missouri Kansas City and potential commercial applications of the reactor as a process component in the growth of black soldier fly larvae (BSFL). BSFL can be grown on sludge, yielding protein-rich tissues that can be processed into animal feed. Business opportunities such as this can help finance sanitation systems throughout the world. As part of her thesis work, Dani spent 5 months with the Pollution Research Group at the University of Kwazulu-Natal in South Africa conducting pilot-scale trials, where she also received the "OMG award" for her enthusiasm and frequent use of abbreviations.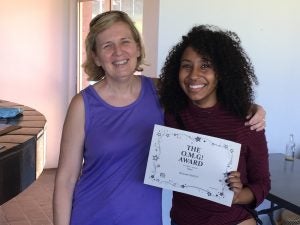 "The Fulbright Program aims to increase mutual understanding between the people of the United States and the people of other countries. [Dani] will be joining the flagship international educational exchange program sponsored by the U.S. government, alongside many distinguished figures around the world. Fulbright alumni have become heads of state, judges, ambassadors, cabinet ministers, CEOs, and university presidents, as well as leading journalists, artists, scientists, and teachers. They include 59 Nobel Laureates, 82 Pulitzer Prize winners, 71 MacArthur Fellows, 16 Presidential Medal of Freedom recipients, and thousands of leaders across the private, public and non-profit sectors."
Dani will be finishing her MS Thesis over the next two quarters before heading to South Africa to complete her Fulbright tenure. We're proud of her accomplishments to date and look forward to continuing to work together. OMG!