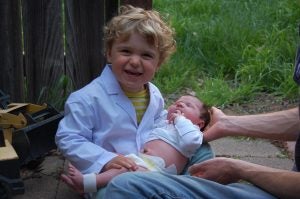 Spring quarter is on the way!  But of course, Spring break was no less exciting for the group – both personally and professionally. A little update for each us: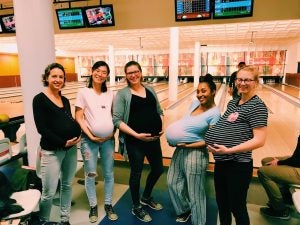 My daughter, Maialys was born on March 27! She held out through the Winter quarter as ECI 289A students learned techniques in quantiative microbial risk assessment and worked on chemical and microbial health risks. Check out my grad student group members empathizing with my bowling-ball sized belly.
Hannah took second place in her Spring Break marathon. In a research group that looks to increase health outcomes in the recovery of resources from waste, her trashcan-shaped marathon trophy was quite appropriate! Hannah had an exciting start of the Spring quarter when she was asked to interview for Al Jazzera (check out her segment starting at about 29:10) — for which she was poised and thoughtful.
Dani headed back to South Africa for a whirlwind Spring Break. While visiting some of the fantastic country, she also popped into the University of KwaZulu Natal's Pollution Research Group to organize shipment of samples collected from her research on Black Soldier Fly Larvae. Thanks Dani for taking the time to do this. Dani also received news that her peer-reviewed paper for the WEDC conference, to be held in Kenya in July, was accepted following revisions.
Jessica plowed ahead in home improvements AND her MS thesis, which was submitted to committee members for comments. Jessica will be submitting her thesis this quarter!
Wenting launched the Spring quarter with a lightening presentation (5 minutes!) and poster on poly- and perfluoroalkyl substances in fire fighting foarm for the Environmental Health Sciences Core Center Annual Retreat. Maialys visited her poster and was highly approving (her mom agrees).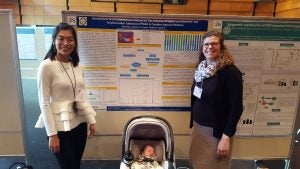 Rumors that Olivia's band performed in Yosemite were confirmed by Wenting, who traveled there to check out the performance over the break. Olivia also received the good news that our project with the California Department of Pesticide Regulation was selected for funding to evaluate pesticide removal potential in agricultural drainage bioreactors. This will be the topic of her MS thesis.
Our undergraduate researchers Tristan and Erica bid farewell to the group as they finish up their last quarter at UC Davis this Spring. Yilong graduated in Winter quarter and continues to wrap up his contribution on exposure assessments in container-based sanitation, while also expanding his artistic talents (with a photography trip to Chicago!).
Congrats to the entire group for an eventuful Spring Break!